Completely furnished two bedroom unit.  Includes a full kitchen, TV with  DVD,  shower and/or tub, a deck or patio, and grill. This unit is individually owned with unique decor and amenities. No WIFI access. WIFI is available on the resort property to use.
Minimum Stay Requirements may apply.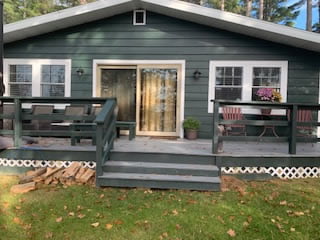 Lake Front Cabin
Cabin 8R
4 BR3 BASleeps 14

Year round lake front 1,665 square foot 4 bedroom 3 bath Cabin. This cabin has a fully equipped kitchen with diswasher, living room, basic satellite TV, showers with/without tub, washer & dryer, fire pit, and deck. Bedroom 1 has 1 queen and attached bathroom, Second bedroom has 1 queen and attached bathroom, Third bedroom has 2 queens. Fourth bedroom has 3 queens. Maximum Occupancy is 14.
View Details >
Testimonials
Happy Clients
We would like to share with you what some of our recent guests have said about their experience at Eagle Waters Resort.
Beautiful resort, excellent service & fishing! I highly recommend this resort – have been going since 2007 & still love it!
Dawn M.
We have already booked a unit for next year as they go fast, and look forward to another great stay!
Denise A.
This is THE must-stay for anybody in the Wisconsin Northwoods! There is so much for everybody here. It's a great place for a couple who wishes to just get away…..and also for families.
Hilltopper Mike
Great weekend and a wonderful wedding with super great people excellent restaurant!!
Jack W.
Your mission: Provide every guest with a "Wow" experience….
Mission Accomplished!
Stacy B.
This beautiful resort, located just outside of Eagle River, WI, has everything needed for a fantastic vacation. While I've been told this isn't medically possible, I swear you can feel your blood pressure lowering even as you drive up to the office to check into your room.
TBouk
My husband and I have been coming here since 2008. We love it here so much we finally purchased one of the condos. When I think of "The North Woods", THIS is what I imagine.
Nancy D.